Cinema Edition - MGM - starred Walter Pidgeon and Greer Garson. Nominated in twelve categories, the film won six Hollywood Oscars in 1942, including the award for Best Picture.
Best Picture Oscar
Sidney Franklin
Best Actor Nomination
Walter Pidgeon
Best Actress Oscar
Greer Garson
Best Supporting Actor Nomination
Henry Travers
Best Supporting Actress Oscar
Teresa Wright
Best Supporting Actress Nomination
Dame May Whitty
Best Director Oscar
William Wyler
Best Screenplay Oscar
George Froeschel, James Hilton, Claudine West, Arthur Wimperis
Best Black and White Cinematography Oscar
Joseph Ruttenberg
Best Film Editing Nomination
Harold F. Kress
Best Sound Recording Nomination
Douglas Shearer
Best Special Effects Nomination
Photographic: A. Arnold Gillespie, Warren Newcombe
Sound: Douglas Shearer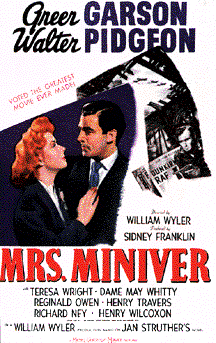 Greer Garson later said of the film - and of Jan Struther - "It reached out not only to metropoliton cities but the rural areas too. And wherever Mrs. Miniver went, she had quite an extraordinary welcome."
The scenes culminate in a morale-boosting final speech that President Franklin Roosevelt ordered printed and air-dropped over war-torn Europe.
JAN STRUTHER'S MRS. MINIVER Dramatised by Christopher Sergel. A Play in Three Acts [based on the film, not the book]. Chicago, The Dramatic Publishing Company, 1942. Paperback, 142 pages. Frontispiece portrait of Jan Struther. Copy at Library of Congress.
MRS. MINIVER, screenplay by Arthur Wimperis, George Froeschel, James Hilton and Claudine West, based on the book by Jan Sruther. Copy at Harvard University Library.
Also printed in Twenty Best Film Plays, edited by John Gassner and Dudley Nichols, New York, 1943, pp. 771-832.
The Lux Radio Theatre Edition - Mrs. Miniver
The following information - gratefully received, 5/03 - comes courtesy of Open University student, Louise Dainty ... "The Lux Radio Theater version, broadcast on 6 December 1943, featured three of the stars of the film (Greer Garson, Walter Pidgeon and Henry Wilcoxon). It reduced the 134 minute film to a 60 minute radio play. The popularity of the film was such that it inspired a weekly 30 minute serial on CBS, Mrs Miniver (1943-44), which saw the family evacuated to America and charted their experiences there." (Jeffrey Richards, 'Hollywood and radio' in AA310 Book 2, Hollywood, MK, Open University, 2002). In contrast to the film, the radio adaptation was narrated by Mrs Miniver, but still followed the story line of the film, rather than the original book."
The introduction from the Old Time Radio web site states, "The Lux Radio Theatre was a one-of-a-kind OTR (Old Time Radio) show. Imagine the greatest Hollywood stars doing one-hour versions of their biggest motion pictures, complete with full orchestra, live on stage with a studio audience. You don't need to imagine it. That was Lux Radio Theatre. The one-and-only Cecil B. DeMille was your host ('36-45) for a lavish production of what was to become a veritable film checklist of many of Hollywood's best films from the mid-30s right through the mid 50s. Every genre is included, from darkest noir crime dramas to historical epics to bubbly musicals and broad comedies. There are some titles that are less known today, and that makes them even more historical. The stars of the movie are usually in the productions, although sometimes contracts or schedules meant that another star took the part. In some another star would be featured in one of the major roles. The productions were live, with full orchestra, and many Hollywood legends were unused to performing in public without the benefit of retakes. Needless to say, the performances in every show are singular. The Lux Radio Theatre is a masterpiece in OTR's crown, and each show is a historical time capsule that takes us back to the glamour of the Golden Age of Hollywood."
Jan Struther was a sought-after radio personality in America and was a frequent guest on the popular radio show "Information Please". The shows were recorded and they remain in the "spoken word" archives of the Library of Congress; however many have now been committed to CD and may be purchased. The programmes are listed via this LINK.
Video CD Edition

Mrs Miniver

NTSC format for video stock is used in Canada, United States, Japan and parts of South America.

DVD Editions - Mrs Miniver

USA Video Editions

Mrs Miniver

MRS MINIVER [video recording] MGM/UA Home Video of the famous 1942 film, 1991. One version was made for the American video system (green case) - VHS NTSC (North American) format.

Another version was made for the international VHS system. (128 min.): sd., col. 1/2 in.

Interational Video Editions

Mrs Miniver

THE MINIVER STORY [video recording] MGM/UA. (not shown) This was the Home Video of the unsuccessful 1950 sequel, "in glorious black and white", about which Jan Struther successfully sued MGM for killing off her heroine.

Made for the American video system only.
Genre : Classic. Coding : All-Region; Not regionally coded; Suitable for compatible DVD players anywhere. Video Format : Standard 1:33:1 [4:3]; B/W. Audio Tracks : English: Digital Sound. Subtitles : English, Chinese (Close Captioned). Based on the book by Jan Struther; A Metro Goldwyn Mayer Picture; Directed by William Wyler; Produced by Sidney Franklin. Additional Information # Discs : 1
Screen Legends Edition - package design by Turner Entertainment Co. and Warner Bothers Entertainment Inc. 2004. Australia - distributed by Warner Home Video Pty. Limited."Kay Miniver doesn't fly a Spitfire in dogfights over London or ply the North Sea in a battleship, but she's doing her all for wartime England. And she does it so well that Winston Churchill would say Mrs. Miniver was more vital to the nation than a fleet of destroyers."
CBS Television adaptation - Mrs Miniver

Starred Maureen O'Hara as Mrs. Miniver and Leo Genn as Clem Miniver. Presented by Westclox-General Mills on CBS.
The 90 minute adaptation was by George Bart with Marc Daniels directing the taped show. January 7, 1960 at 9:30 PM - CBS-TV. Information courtesy of an unofficial Maureen O'Hara web site. - details and reviews via this link
Audio Books - Mrs Miniver
Jan Struther herself recorded "Mrs. Miniver" on a series of fragile 12" 78 rpm records in New York in 1941 as part of the "Books For The Blind" series. Any reader of this page with knowledge of the whereabouts of a set of these is invited to make contact via e-mail idds at bigfoot.com .
Oxford, England: Oasis Audio Books, 1991. ISBN 1850896429 - read by Brigit Forsyth. "Mrs Miniver was the pen-name of Joyce Maxtone Graham and the stories were based on experiences of her own family." Possibly re-produced as Oxford - ISIS Audio series - read by Brigit Forsyth 1994 - 4 sound cassettes (4 hr.34 min. 17/8 ips., 2 track, mono., stereo., Dolby processed; in container, 23 x 17 x 3 cm.
Royal Blind Society of New South Wales. Burwood, N.S.W., Australia - 1 sound cassette : 15/16 ips, 4 track, mono. Leigh, John, M.D.
Australian Listening Library - North Sydney - 3 sound cassettes : 1 7/8 ips, 2 track, mono.
Center for Cassette Studies, (197-?). Hollywood, California: 1 cassette (60 min) : mono.
Mr Punch Audio Books; ISBN: 1900912198

Audio Cassette (February 2000)
2005 UK Channel 4 Competition - broadcast 14th May
As part of a competition run by Britain's Channel 4, viewers were asked to vote for their favourite War Film - with the results being strung together as a programme, "The 100 Greatest War Films" on May 14th., 2005.
"Mrs. Miniver" was voted in at #79 on the "all time" list and the programme included a short interview with Ysenda Maxtone Graham, Jan Struther's granddaughter and biographer (see details of her work, "The Real Mrs. Miniver".

The winning film was "Saving Private Ryan".
© 2005